Version

     2.66.0

When

     June 24, 2021

Goals

Improve user experience when searching and restoring backed up OneDrive data
Fix issues reported by users


New features 
OneDrive folder browser
In x360Cloud version 2.66.0,  our new OneDrive folder browser provides users with the ability to explore a folder tree of a particular end user account. This allows you to see the folder contents, perform searches within a folder and restore selected folders (and sub-folders) - while on the go.
This is extremely useful during searches when you know the exact end user account, but you are not sure about the name of the folder you need to restore.
Also, the folder Browser gives you selection flexibility during restores: you can check or uncheck any nested sub-folders as needed.
To browse and restore OneDrive folders in x360Cloud, navigate to the new Browser page (under any x360Cloud organization with OneDrive services protected.)
Click the User Name of the end user account whose OneDrive data you wish to browse and restore.  The folder tree is then displayed for the selected account:
You can expand and collapse folders in the tree by clicking folder icons. Also, you can click a folder title to select it (making it the current "context folder") and see a list of files within it. As each different context folder is selected in the folder tree, its files are loaded into the Folder Contents section to the right of the tree. 
Note: The folder tree and folder contents are always shown as of the latest backup date and time. If you are interested in seeing a previous file folder structure, captured in the past, stay tuned to future releases!
You can perform a search for a file within the context folder using the search box. The search box supports wildcards, and the search is performed by file name, file content and document author in file metadata:
You can use the checkboxes to select folders to be restored and then click the Restore selected button to initiate the restoration process for the checked folders.
For information on all options available when searching and restoring OneDrive folders, start here:
Improvements
Object backup status report (for Google Workspace in v2.66.0) 
If the backup of a single object (email, calendar event or contact) fails constantly during a 24 hour period, the backup status of the respective user account shows as Failed. This type of container backup failure then results in an organization backup status of Partial (even when other containers have backed up successfully.)  
To improve backup health reporting in these situations, in x360Cloud v. 2.63.0 we provided our targeted partners with more awareness about the processing of failed Microsoft 365 objects.
And now, targeted partners can also see a list of any failed Google Workspace objects causing backup failures.
In x360Cloud v2.62.0, (for targeted partners) we added an Object backup status tab to the Reports page.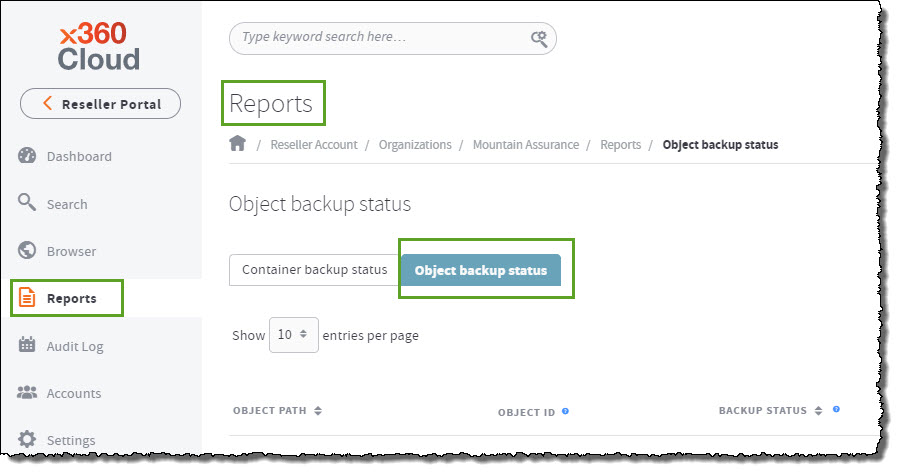 In version 2.66.0, under the Object backup status tab, targeted partners can now see a list of any failed Google Workspace objects causing backup failures:
This new tab shows a list of object versions that have failed to backup, along with the current backup status of those objects. 
Object path indicates the path to the object in the source system.
Object ID provides an identifier for that object in the source system, so you can locate and verify the details involved. (See Locate an object in the source system.) 
Backup status displays the current results. (Backup status descriptions are explained here.)
Last backup attempt shows the date and time of the latest backup attempt for the container housing this particular object (e.g. calendar or mailbox of an end user account).
Notes
Objects are only collected in this report when x360Cloud fails to back them up.
This report is not a log of successfully-backed up objects.  (The system does not capture objects which successfully backup from the first attempt.)

When additional backup attempts for a given object succeed, that object's status is transitioned from Failure to  Success. After a 30-day retention period, this object record is removed from the list.
If, during a further backup attempt, the source system indicates that the object no longer exists, the object status transitions from Failure to Not Available. After a 30-day retention period, this object record is removed from the list.
To enable the object backup status features for your x360Cloud organizations, please contact Support .
Fixes
Fixes for customer escalations and markup issues.
Fix for an issue that impacted successful onboarding of Archive Mailbox containers.
Known issues
Page will sometimes constantly reload when re-logging in to x360Portal after a browser session expires if x360Cloud is open in multiple browser tabs. Closing other x360Cloud tabs in the browser or manual navigation to x360Cloud helps to work around this problem.
Smart Search shows an incorrect number of matching results for Mail when using

 

Filter by collection.
Descriptions for some issues and backup progress are not shown in the container-level downloadable backup report and on the

 

Reports

 

page.
---
SUPPORT     | 720-204-4500 | 800-352-0248
821